About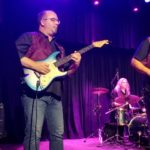 My name is Mike Kohary, and I've been playing guitar and studying music since 1985.  I have loved the guitar for as long as I can remember, and I love to share what I've learned over 35 years of playing with others, in hopes that they'll love it too. I teach rock, pop, jazz and blues, and can accommodate both electric and acoustic players, from beginner to advanced, and all ages from 6 years old and up. I studied music theory and composition at the University of Washington, while studying jazz, blues and rock guitar privately with nationally acclaimed guitarists Jay Roberts and Scott Lindenmuth. I teach guitar and ukulele in my local area at the 4/4 School of Music, and perform professionally as the lead guitarist for national recording act and blues band Michele D'Amour and the Love Dealers.
Why Lessons?
While it's possible to teach yourself just about anything if you're determined and disciplined enough, it is often best to seek training from an expert because there is no substitute for a good private instructor when learning a difficult or sophisticated task. Learning to play the guitar is no different. If you take lessons from me, you'll receive the following benefits that would not be replicated in a self-teaching scenario:
You get the personal attention that only a hands-on instructor can give you.
You get instant feedback on your progress and performance. Mistakes are corrected immediately, ensuring you practice the right things in the right way.
Your instruction is tailored to your specific wants and needs, rather than having to take a "one-size-fits-all" approach from online or video material.
You'll be more motivated to practice during the week in anticipation of your next lesson.
You'll improve much, much faster than if you tried to learn on your own.
Guitar players who are more advanced have a better chance of gleaning something useful from self-teaching materials, but beginner and intermediate players absolutely benefit from having a live teacher to guide them.
Contact me today with any questions or to set up an appointment! Thank you!